Posted by DiGiKerot in
Old!
at April 23, 2007 on 7:52 pm
and by "some things", I mean lesbians and random panty shots.
So, for the first time in about 11 years, I watched Project A-ko yesterday. A-ko, released back in 1986, is certainly an odd movie. It was originally going to be a soft-porn OAV produced by a bunch of ex-Urusei Yatsura staff looking to blow-off steam by doing something completely nuts, only for it to loose the "porn" and "OAV" parts along the way. What it didn't loose, however, was the "nuts".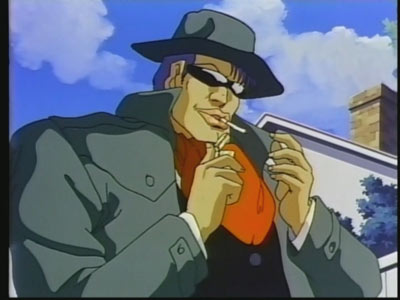 This is a chick. No, really!
The plot seems deceptively simple – the athletic A-ko is best friends with the hyperactively shrill C-ko. When they start their new school, however, they encounter B-ko, who immediately becomes infatuated with C-ko. The twist, however, is that A-ko has the kind of strength which could only come from being the off-spring of Superman and Wonder Woman (no, seriously). B-ko, on the other hand, is the super-genius daughter of a billionaire. As for C-ko, well, she might just be the long lost alien princess being tracked down by an alcoholic alien starship captain who seems to be channelling Captain Harlock.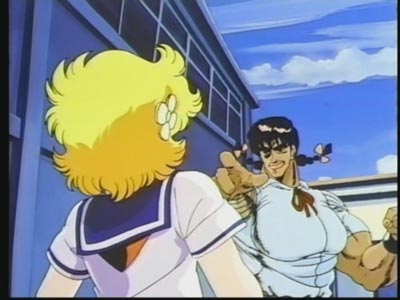 Mari is basically Kenshiro from FotNS, but in a dress. What's funnier is her voice – her speaking voice is really high-pitched, but otherwise it's all very deep, blokish grunting…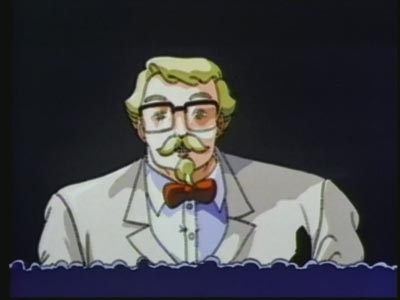 They were talking about KFC in #ab earlier, so I figured I'd post a picture of The Colonel…
So, seeing that A-ko is in her way, B-ko decides to get rid of her by attacking her every day with an increasingly elaborate series of mecha, escalating until B-ko finally comes up with a suit of powered armour (well, armour is a bit of a stretch…) which allows her to face off against A-ko on even terms. At which point the aliens invade – not that A-ko and B-ko notice, as they are causing considerably more collateral damage themselves…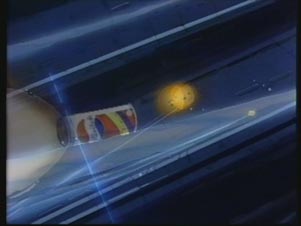 a drinks can missile, and a random panty shot. I guess it isn't really a surprise to learn that the director went on to do Aika and Najica…
As I mentioned previously, Project A-ko is pretty much just completely nuts. It's also kind of surprising that, content wise, it hasn't actually dated all that badly. Sure, the animation betrays most of it's staffs UY origins, and the less said about the cheesey 80s (English) pop-music OST the better, but in terms of actual content the humour isn't really that far off what we get in the really nerdy shows these days. Well, that's excusing the kind of shows they reference – rather than Evangelion, its UY, Macross, Fist of the Northstar and Harlock it riffs on, often to copyright-infringing levels of accuracy. It does so proper nerd-style as well – for example, it not only has Macross-style missile swarms, it even has the drinks cans mixed up in there.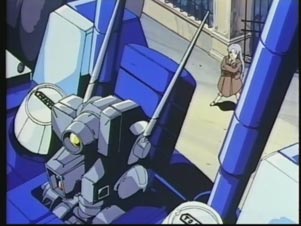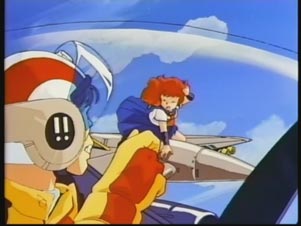 Things get increasingly excessive (and better animated) as it goes along – though the transformation scene for that mecha is actually about ten times as long as the actual battle is…
So, err, yeah. As per usual, I'm not quite sure what my point actually it. I guess its either that old anime is just as dumb as new anime is, despite what some people want you to believe, or that what was nerdish in 80s anime fandom is still pretty much what is nerdish today.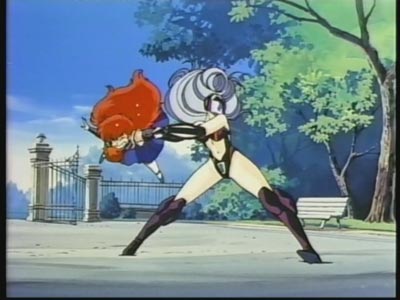 Exactly HOW this costume gives B-ko superhuman strength is beyond me…