Posted by DiGiKerot in
idolmaster
at July 17, 2013 on 6:08 pm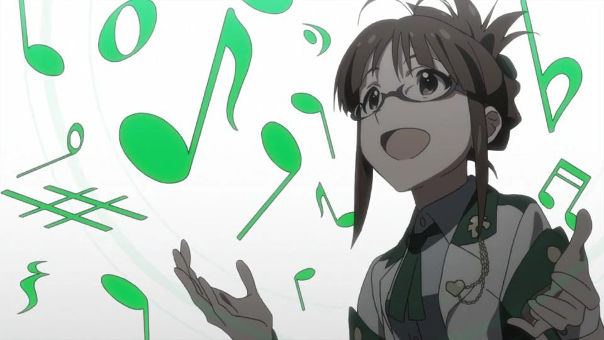 Those who follow me on Twitter may or may not be aware of my tendency, once a month, to complain about the fact that the new songs for
iDOLM@STER Shiny Festa
, the PSP and iOS iM@S rhythm-action game, had yet to be solicited for release on CD – mostly the main theme,
Music♪
, though I guess I'm slightly unusual in preferring
Vault that Borderline
to the other game-specific songs (and, honestly, I'm really not particularly fussed about
Visionary
).
Now, almost a full year after the the initial release of the game, they've finally actually thrown out release dates for the CDs containing the full versions of the songs. But whilst Columbia may give with one hand, they take with another – rather than release the songs as singles, they are releasing them across a series of 2CD collections, monikered THE IDOLM@STER 765PRO ALLSTARS+ GRE@TEST BEST!. Or at least that's what I assume is going on – the CDJapan description currently states that all four of those are on the first CD, but I'm pretty certain that's a misinterpretation of the announcement description.
But, hey, the actual track listings haven't been published yet, so the actual contents (and what the '+' in 'ALLSTARS+' signifies) is anybodies guess right now. That the CD sets go by the titles of THE IDOLM@STER HISTORY, SWEET&SMILE!, COOL&BITTER! and LOVE&PEACE! somewhat tie into the tone and content of Music♪, Visionary, edeN and Vault that Borderline respectively probably spells at least part of their plan here.
Of course, the annoyance for me is that, as nice as iM@S collection CDs are, I kind of own a lot of iM@S CDs already, and this probably means I'm facing shelling out three times as much as I would have otherwise for the sake of four songs given that I've probably got a lot of the content presented here already. I suppose we'll see once the full track list is out.
The other thing to bear in mind with this, though, is that this is a wholesale dumping of iM@S music content going on here – it suggests the end of the milking phase for this particular content. What this signifies is the expectation of both something causing a bump in interest in the franchise, and something causing a significant content refresh. Whilst I'm certainly looking forward to the upcoming movie, that's probably not big enough of an event, and I will point out that the last time they released a collection of Best Of CDs, it was six months ahead of the release of iDOLM@STER 2…
Which rather stokes the bonfire of expectations regarding the likely upcoming announcement of iDOLM@STER 3 for early next year…
Just saying, you know.