Posted by DiGiKerot in
Mikan Watch
at January 10, 2015 on 9:03 pm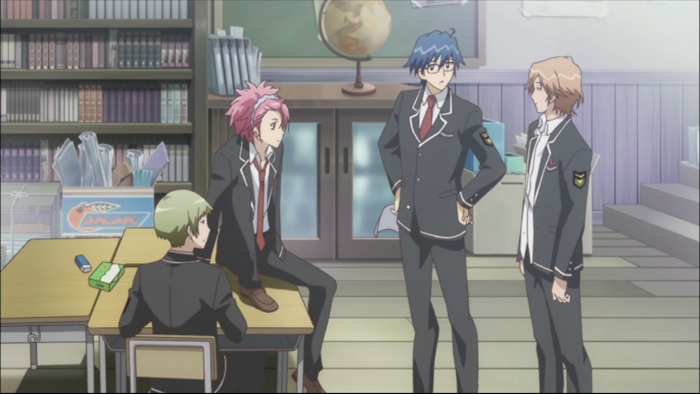 The first spot of the new anime season, it's the Mikan box
so orangey
they deemed to label it twice – that is, they're
Mikan Mikan
boxes. They're all over the boys club room, too.
There's not really a ton to say about Cute High Earth Defense Force LOVE, aside from the fact that the shows title is a wee bit of a mouthful. This is largely because it's very much the kind of show that you'd expect the folks involved in it's production to produce – the shows director, Takamatsu Shinji, made an awful lot of Gintama. The shows lead writer, Yokote Michiko, made an awful lot of Gintama. The episode director working on this opener, Miyawaki Chizuru, worked on Wandering Son. Also, made an awful lot of Gintama.
This probably all sounds like me being awfully reductive here, but in CHEDFL, it's a little difficult not to stress that they've made a show that very much sports the same kind of sardonic tone, and the same kind of dialogue and directorial cadence, as what is arguably the most significant of their previous works. Right from the opening, it just noticeably has that feeling to it.
Which is, you know, fine – Gintama is a good show, but they've, well, made an awful lot of it. There's absolutely nothing wrong with taking the lessons learned whilst adapting such a long running manga and applying them to an original show with new characters and a completely different setting.
(Not that this is the first time these folks have done such a thing – also see Ixion Saga DT, though what I watched of that one was a wee bit hit-or-miss. Will be curious to see if CHEDFL is more consistent, though I'll probably forget to watch it from the second episode onward anyway…)