Posted by DiGiKerot in
Toyetic
at July 14, 2013 on 10:39 pm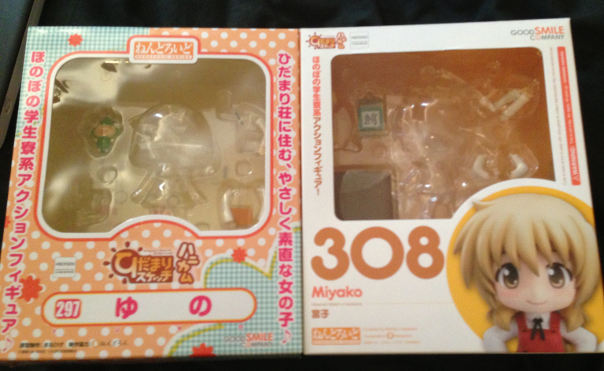 With the recent release of the 300th figure, Good Smile Company have done something of a soft relaunch, or at least a minor rebranding, of their Nendoroid figure line. After all, at 300 entries, it's probably one of the biggest series of specifically branded figures outside of the low-end capsule-machine brandings like Bandai's HGIF, but at this point they're facing increased competition from other manufacturers finally launching ranges in the same size and price point regions.
It's kind of an interesting rebranding as well, in a sense – I don't actually follow any of GSCs social presence, even though they do things in English, but it definitely feels like they're playing up to the series popularity outside of Japan with their new packaging style (despite the "For Sale In Japan Only" moniker still displayed on the back). The Romanized version of the character name is now more prominent than the Kanji one, and the sculptor information on the front is now in English, the Japanese demoted to the back of the box. Whilst the traditional Nendoroid "Something Something Action Figure!" line in Japanese is still displayed on the front-left, the box also features slightly-awkward English lines like "Cute to look at, fun to play with and great to collect Nendoroids!" all over it.
Although it is kind of unfortunately that the rather cleaner, less busy graphic design of it all does actually end up making it more like, say, the competing Cupoche packaging than the busier, older ones did.
It's also kind of unfortunate that the two Hidamari Sketch characters they've released as part of the series ended up juuuuuust either side of the rebranding, cursing the boxes not to match, despite being released barely a month apart.
(more…)