Posted by DiGiKerot in
Love Live!
at January 22, 2013 on 11:21 pm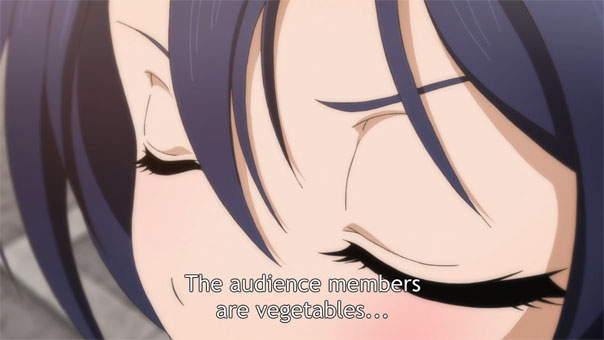 Because clearly they'd have to be to enjoy thi… nah, just kidding.
In lieu of anything of particular substance to post about recently, I suppose I may as well stick to posting about the show for now, though there's increasingly few things to talk about on a weekly basis without repeating myself to an excessive extent.

1. Song subtitles for the OP? Crunchyroll, you are spoiling us!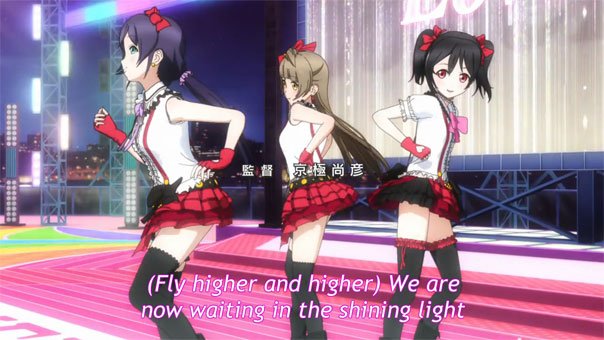 Not, in the grand scheme of things, anything to get particularly excited about. It's just been confusing me in recent weeks as to why the insert songs were all translated, yet the OP and ED sequences weren't. The usual reason for Crunchy not subtitling songs is the effort it takes to get the translations for them
approved
– it's not the translation or the timing of the subtitles or anything like that which is the problem, more the fact that they need to go back to the original artists (or at least the management agencies) for the songs in question with the translation to get permission to actually use it. Given that these songs can often be recorded by "legitimate" artists, I've got to imagine it must be a pain.
What's been confusing about Love Live (and AKB0048, for that matter) is that all the insert songs (which were subtitled) would presumably have had the same clearance process as the OP and ED songs, being that they're all the same artists and all.
2. If Umi so much as goes near a bass guitar…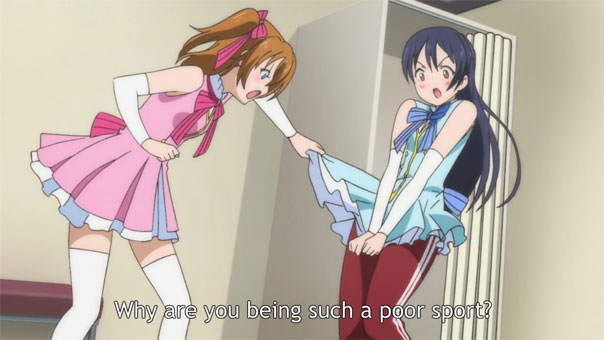 I'm pretty sure that Kakifly's lawyers will be straight on the 'phone to Sunrise, not to labour a point from last week too much. The Mio-isms are strong in this one.
This weeks Umi oddity is, precisely, why she was complaining so much about the length of her stage costumes skirt when it doesn't seem discernibly shorter than the one accompanying her school uniform. For "moe" reasons, I'd guess.
3. Random Number Generators!
And speaking of stage costumes, I have to wonder if they used a random number generator to determine which cuts of the concert scene at the end of the episode they drew by hand, and which they did by computer. Through the OP and previous dance scenes, there's been some clearly discernible logic to it – pretty much all long-shots are CG, anything focusing on the waist-up was hand-drawn. Here it's a bit more inconsistent in approach.
Not that I'm going to complain about the CG too much – it's still much more convincing than the genre competition – but it's still jarring in comparison to the quality of the traditional animation on display.
4. Nico is my favorite Love Live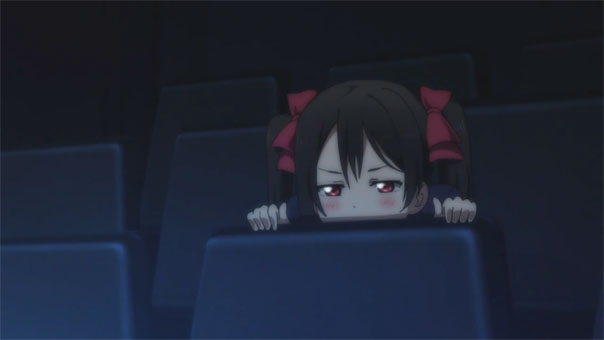 Not that's she's done much other than hide behind chairs and be stroppy, but I'm just saying.
5. Speaking of Nico…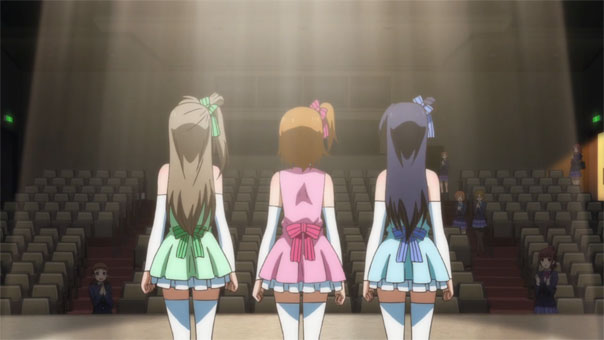 Aside from the fact that I rolled my eyes a few times at the set-up for the whole concert scene, I can't help but notice that they end up recruiting all but, what, three members of their audience? Not really anything beyond that to say about it, I guess, but it did make me laugh somewhat.