Posted by DiGiKerot in
Mikan Watch
at September 18, 2014 on 4:47 pm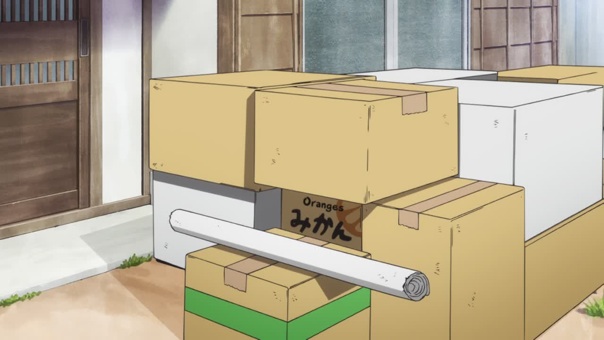 Submitted by
Author
over the twittersphere, from an episode of Barakamon. All potential jokes about Digivolving Presidents are too overplayed to repeat here.
Well, at least I assume it's from Barakamon – I'm taking his word for it, because at this point in the season, it's increasingly apparent that I'm absolutely not going to find time to watch even a single episode of the show. I feel kind of bad about it, because it's apparently pretty good, even if many comments to that effect are often couched in terms of "well, we're never getting a Yotsubato cartoon".
In reality, though, it's pretty much the victim of being not on Crunchyroll and not being an idol show – I'm behind on my anime as it is at the moment (having taken on a little more than I usually endeavour to chew this last season despite taking a two-week trip to the US in the middle), so if it's something which doesn't just appear somewhere on the frontpage of Crunchy when I check the site, there's a pretty good chance that I'll either just forget about it, or simply won't bother to jump through the additional hoops to watch it. In the case of Barakamon, it's also one of the increasingly few shows which isn't streaming anywhere in the UK, which isn't to say that I couldn't, say, watch it on Hulu using one of those handy region spoofing plugins, but who wants to deal with Hulu?
Call me spoilt, I guess, but it does mean I have nothing to say about the actual show.
(Also, I should probably actually watch K before going to see Missing Kings at SLA in a few weeks).