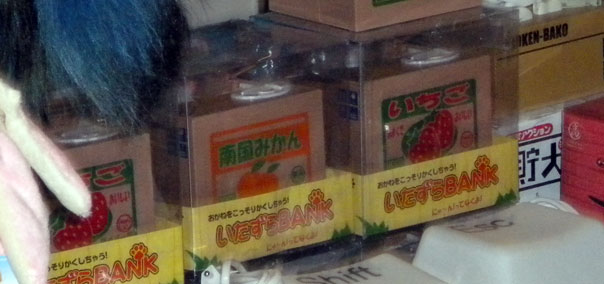 "Supplementary" because it's not from an anime or manga (or game), rather it's from the dreaded Real Life. Not that this particular Cat-based money box is much of a rarity – they were a moderately common sight on UK high-streets over the Christmas period, and they've been the Crunchyroll daily deal on more than one occasion. What is perhaps more shocking than seeing them is the fact that I don't actually own one.
This particular example was spotted at the May London MCM Expo, the a-few-times-annually-in-various-places UK comic convention, which for the most part is just an excuse to buy ludicrous amounts of stuff, cosplay, or both. Actually, as a first-time attendee, the cosplay was initially a little overwhelming – it's not like I've never seen people cosplaying IRL before, but being an early-attender, I was getting to the ExCeL at the point where a good 60-70% of the attendees where dressed up, and that was kind of boggling to me (even when being "dressed up" amounts to simply throwing on one of those Naruto Akatsuki capes). Not that I have a problem with cosplay, mind you – although I may not be inclined to say any differently if I did. At these con situations, they not only outnumber you, they have weapons. Not a good mix, really.

The funny thing about cosplay is that it really puts into perspective what shows are actually popular amongst the larger base of fandom, something which isn't always obvious from those which are more vocal on the internet. Obviously costumes from Bleach, Naruto and One Piece were the greatest in abundance (the latter being a little more surprising given there's not legal viewing option for that in the UK), not to mention Vocaloid, but I honestly had no idea that Vampire Knight was a "thing" until I saw swathes of people wearing the uniform from that series. Heck, the only way I picked out what it was from was due to the merchandise on sale at the event.
Not that there weren't some more obscure things around – seeing a Mink from Dragon Half was perhaps the most surprising, though seeing someone dressed as the Irresponsible Captain Tylor made my weekend. Unfortunately, I didn't take any photos.
If it seems like I'm digressing a little too much into talking about cosplay, it's because it was kind of the mentally saturating experience from the weekend – there was a lot of cosplay, and I honestly think that it's something that'll never phase me again. Actually, I had problems going in the other direction for much of today – I had to reign in my thoughts when seeing someone wearing a hat made me wonder who they were dressed as.
In terms of other things to talk about in regards to the event, I don't actually think there's much else to discuss, or rather worth me discussing, unless you want to know how painful it is lugging 30 volumes of manga 300 miles across the country (not entirely on foot, of course). I did meet a bunch of people, though mostly from the Twitter space (including Nekodesu host Mister Shillito) – as far as the Blogging space goes, it pretty much came down to bumping into Hanners briefly on the Friday. I gather Scamp was floating around on Saturday as well, and that I was probably within ten meters of him at some point, but since I wasn't aware of the fact until afterwards, I didn't pop over to say hi. It wouldn't be the first time I was completely unaware of being in his general vicinity, either.
I guess there was the anime industry panel – there's a thorough write-up on UK Anime by this point, should you wish to know what was said. There's not really any shocking announcements going on there – Manga having Strike Witches garnered a reaction from a few, but given that they've talked about liking the show (much to their surprise) on Twitter on more than one previous occasion, it didn't really come as being all that unexpected. Tiger&Bunny getting a physical release at some point is interesting – I've already got a pre-order in for a few of the Japanese disks, but I suppose I should consider saving myself some money for once there (not that there's yet any indication as to when we'll be seeing it over here). I'll probably buy King of Thorn when it hits as well, though between that and Tiger&Bunny, it's curious that there's Sunrise content being released via distributors other than Beez. I wonder what's up there…
(And of those keeping track, this is the post I'm writing on the train back from London)