Posted by DiGiKerot in
Random Stuff
at June 18, 2012 on 5:39 pm

This is one of those things which would probably register as being "weird" as opposed to merely "curious" if it were happening in a different show, but the ninth episode of Sengoku Collecion threw in a bunch of references to the Korean martial arts movie Volcano High…



I mean, if you're thinking this stuff is generic enough to coincidence, there's a shower scene at the end of the episode that I'm not picturing here which really gives the trick away. It's kind of cute, I guess, though not really all that interesting. As far as it goes, most episodes of Sengoku Collection references, to varying degrees of blatancy,
some
movie or other I'm not cine-literate enough to pick up on.
Sengoku Collection is a really strange beast of a show. I was pretty much ready to write it off after the first episode proved to be somewhat of a rote magical girlfriend show, but it kind of won me over when the second episode was about a Sengoku general being an, errr, aspiring idol (the humour value of a general known for the persecution of Christians trying to sing with a gospel group wasn't lost on me). It then lost me with the third episode. Then won me over again with the fourth. Yeah, it's a peculiar show.
I think it's just that I have an inordinate amount of affection for shows which display such a ludicrous degree of genre shift. I mean, the reason that spoofing Volcano High didn't register as weird in Sengoku Collection is because this is a show which had already spent an entire episode mocking Michael Moores gun-control documentaries.
As far as the episodes aired thus far go…
Episode 1 – Kind of boring, rote magical girlfriend show.
Episode 2 – Ieyasu as an aspiring pop-idol, playing very little on the whole fish-out-of-water thing. Very cute.
Episode 3 – Back to the fish-out-of-water antics. Kind of ruined by Kanetsugus kind-of-derpy character design.
Episode 4 – Rather straight-laced and curiously humourless gangster/prison drama. Moderately interesting.
Episode 5 – Michael Moore spoof. Rightfully kind-of-not-really legendary.
Episode 6 – Gennai tries to invent a time machine so she can go further into the future, minor drama ensues. Kind of uneventful – I thought it was cute, many thought it was tedious.
Episode 7 – If I was being cute, I'd write this line in Haiku, since that's how Basho tends to speak. Either cute or really, really annoying.
Episode 8 – Hideyoshi the rice-lover travels into a mysterious world where she gets involved in a war between Rice and Wheat. Gloriously surreal.
Episode 9/10 – Volcano High-referencing two parter. The first part was fun, the second part I actually found a little dull.
Episode 11 – Mardock Scramble. Sort-of. In a way that only those who've read the novel will understand. Wasn't too hot on it, personally.
Yeah, it's a strange show. It's kind of worth watching for that reason. If nothing else, it's probably got a better hit:miss ratio than certain other higher-profile largely episodic shows airing this season.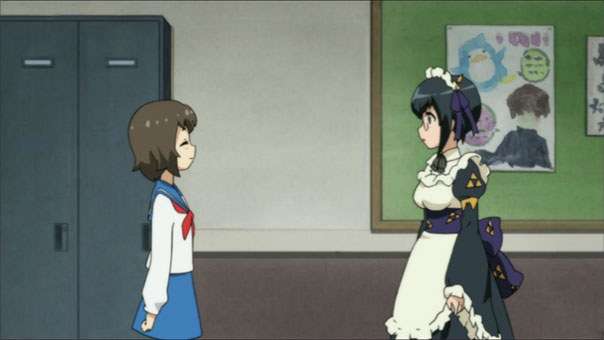 Also, PenguinDrum poster?