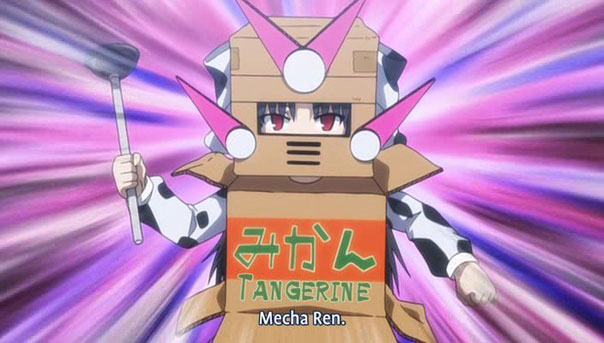 From Carnival Phantasm EX (a particular instalment I've yet to see), this example of a box-as-armour was submitted by
King Author
over a month ago now.
Which apparently is around about the last time I updated this blog, a move which was not entirely intentional – I could have sworn that I'd updated just a couple of weeks ago, but I guess I've been consistently telling myself that for the best part of the last month. Whoops.
Also, the amusing not-actually-irony of someone who seems to have conceptual issues with iM@S pointing out that I've not updated recently isn't entirely lost on me.

Speaking of iM@S, there's been a bit of a kerfuffle over the last few days in regards to the previously announced iM@S Namasuka Special CD. The official Columbia iM@S site finally posted the full tracklisting for the CD on the 11th, but promptly had to pull it a few days later. The CD is scheduled to feature the previously unreleased Kyun! Vampire Girl song from the game, along with new character songs for Miki, Hibiki and Takane, plus if the previously released track list is to be believed, two cover songs for each of those characters.
Apparently there's been a rights issue with one of the songs – presumably the cover songs – though, so the track listing has been pulled until, more than likely, they replace the song in question. Obviously, they've not mentioned which track in particular is problematic, but with some six cover songs, there's a lot of scope for removal. About half the released cover song listing consisted of stuff that most people who don't listen to a lot of J-music probably wouldn't have stumbled across, but I suppose the highlight of the previously released list would have been the cover of the Madoka Magica OP Connect by Takane.
Back to the "not updated recently" thing, I suppose there was probably things that I could have been writing about but didn't get around to it. For example, last weekend, I was in London for the BFI anime weekend. Saying that, I'd seen most of the movies previously (and Gintama, which I had seen before, ended up not showing). I suppose I can summarise things as such:
* Letter to Momo is still wonderful.
* I'm pretty sure that, alas, I'm never actually going to "get" Children who Chase Lost Voices from Deep Below as a movie, and have come to the conclusion that I simply don't like the thing.
* It's so laden with them that I'm inclined to wait and write it up as a Mikan Watch post once I get ahold of a disk copy, but Up On Poppy Hill is undoubtedly my favourite Ghibli movie of recent years.
* The Princess and the Pilot is acceptably entertaining on the level of a mid-tier TV movie, in as much as it's an incredibly rote and workman-like title that isn't exactly an offensive way to spend a couple of hours, but'll leave absolutely no lasting impression.
* Man, The Sacred Star of Milos was a baaaaaaaaaaaad way to cap-off a franchise I liked.
And that's about it.