Posted by DiGiKerot in
Mikan Watch
at July 2, 2012 on 6:38 pm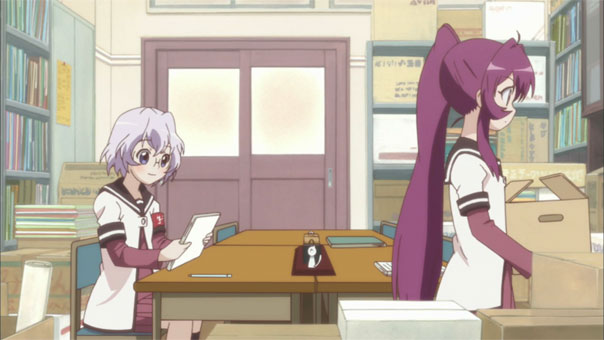 From episode eight of the original series, somewhat hidden on the far left hand side there.
As if proof of the force being strong in this one was required, I pretty much just clicked on this episode randomly on Crunchyroll whilst pondering how far through the show I'd actually watched, and *BAM*, within thirty seconds this revealed itself.
As for the show itself, it's one of those things I didn't feel particularly strongly about either way – it didn't present itself as a particularly offensive way to waste some time, but I didn't particularly love it either. I suppose that's why I only managed to make it up to episode six or so – I probably just forgot to watch it one week and didn't care enough to catch back up on it. Suppose I might check out at least the OP of the second season just to see what the OP is like, though it is another one of those shows utilising unpronounceable sequel identifiers.