Posted by DiGiKerot in
idolmaster
at February 10, 2013 on 10:51 am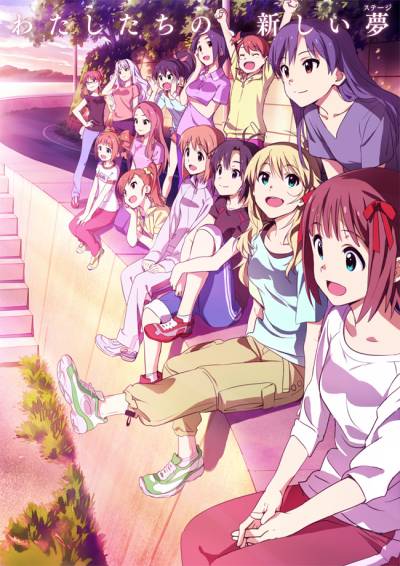 Because obviously, the thing to do when faced with new competition in the cartoon idol space is to stay one-step ahead of the game by renewing your efforts at a higher scale!
Anyway, pretty exciting news to wake up to, if rather immediately tempered by the realisation that, with the way these things usually work out, it'll probably be two or three years by the time it's released and filters down to a BD release and I'm able to actually see the thing. Maybe I should track down the SLA program director at the GFT this afternoon and start bugging him about it already…

There's not really much to say about the production at this point – the PV, perhaps unsurprisingly at this stage, reveals absolutely nothing. Apparently there's going to be more details in the issue of Megami out towards the end of this month (promptly ordered).
My thoughts in the meantime pretty much amount to –
Man, I want that poster
Not that I actually have any room to hang posters…
Ritsuko has the best pose.
Absolutely no character bias there, no-siree! She really needs to be pulling the Kurumi Erika face there, though.
Why is Miki starting so longingly at Chihaya?
Perhaps the iM@S movie will be a truly progressive anime, in which we have, for want of a better term, reverse-boob-envy. Maybe it's evidence that the plot will revolve around a Chihaya-Miki-Haruka love-triangle, climaxing in an incredibly stabby, Nice Boat ending? Maybe I'm just clutching at straws in order to find something to talk about?
I don't know, it's a little difficult to fathom out what they'd actually do with iM@S in a theatrical capacity. It's not that I don't have ideas, but they're all somewhat a little thin. If nothing else, I'm pretty sure that they won't be going for the "let's go aboard!" plotline used in the K-On movie and so many terrible British sit-com spin-offs. What I'd like to see them do is maybe bring back the Shinkan Shojou – as some of the periphery material as threatened to do – in some capacity, or maybe do something with Jupiter which isn't incredibly obnoxious, as long as it's not too much of the central focus.
Honestly, though, they could get away with doing something really dumb, like a movie-long edition of Namassuka, and I probably wouldn't complain anyway. The thing with the iM@S TV show is that they jumped tones and genres fairly readily without it ever getting especially problematic (except for maybe the Hibiki episode, Hamzou pimp-slap aside), so they could get away with doing pretty much anyway. The biggest hurdle they'll be facing is likely the fact that they'll be feeling the need for everyone in the primary cast to have something to do, which may get a little problematic when splitting a movies running time across more than a dozen characters.
Best Result – The key-art and PV are trolls, and the movie is actually The Legend of Kotori.
Comments Off

on The iDOLM@STER MOVIE!