Posted by DiGiKerot in
Mikan Watch
at April 16, 2014 on 7:23 pm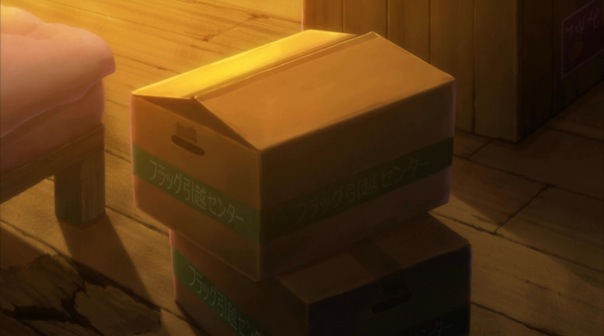 Leaping to the top of the queue by virtue of drawing first blood this season, from the first episode of
Kanojo ga Flag wo Oraretara
– or
If Her Flag Breaks
if you like English (Or
Gaworare
if you are worried about letter counts). It's that thing in the top-right corner, being used as a table in the ramshackle
Quest Dorm
in which the male protagonist resides.
I have to admit, I've been spending an awful lot of time this season staring at the frontpage of Crunchyroll, finding myself not really finding all that much that I particularly feel like watching most nights of the week. I only really stuck this show on as background noise whilst I was fiddling around with something else, but it's cute enough, I guess. I suppose I should watch No Game No Life by means of comparison, but Gaworare feels very much like a confluence of ongoing trends in the industry – it's all very light-novel, whilst also continuing that gamification of relationships as portrayed in the likes of The World God Only Knows. Only, you know, being way more literal about this whole flag concept. Maybe I'll watch more, maybe I won't.
But, hey, it's a double Bank Holiday Weekend here in the UK, so I've got a nice four-day break during which I can pretend that I'm actually going to catch up on checking out new shows.