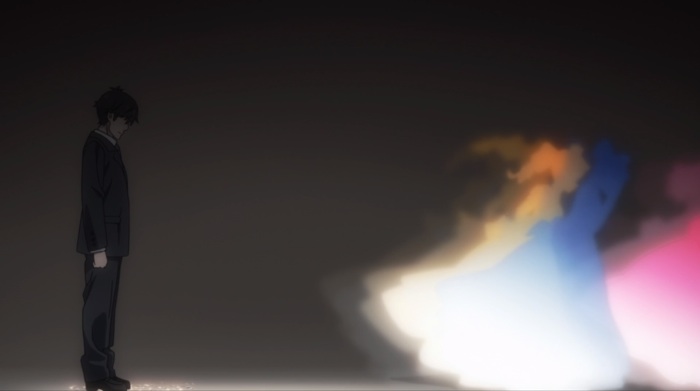 Whoops, I've sat on this one for a wee bit too long, though as an episode, this one very much wears it's heart on it's sleeve – it understands that it's not the time to be making in-jokes, or to be filling itself with cameos of third-string Cinderellas. It plays things straight and effectively.
This instalment is the first that series director Takao Noriko has taken the helm on since the series opener, and whilst the rain might be a little heavy a metaphor, there's a bunch of clever things going on here. For much of the episode, they really downplayed the colour palette, using far more muted colours than usual, effecting a more oppressive tone which alleviates itself a little more with each improvement in the situation, before returning to normal at the end. The show tends to have a little of it anyway, but they really whacked up the bloom this episode as well, casting, or suggesting, a haze over the events matching the feelings of the characters.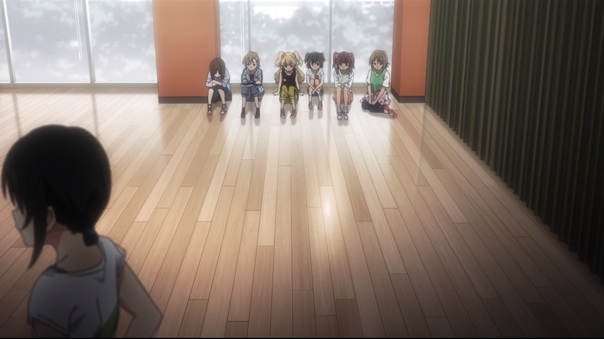 A lot of the scenes are deliberately shot at a distance, often deliberately emphasising empty spaces to play up a certain sense of loss, which is played up with an additional layer of echo applied to environmental music. Although speaking of music, I really like the use of it in this episode as well – particularly during the opening scenes, it grinds the audience down with a series of heavy, repetitive dirges, before given way to absolute silence. It's all very effective.
The episodes narrative content is good as well – it's nice to have an episode which is as much about the Producer as it is about the idols. There's not a whole lot to add beyond what I said about the previous episode, but it's nice to have the Producers attitude grounded in something, even if the specifics of his backstory wasn't exactly entirely unexpected.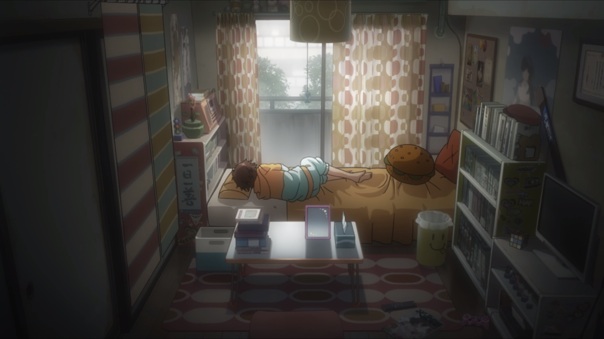 In conclusion, that's pretty much all there really is for me to say this episode, but I'm looking forward to a hopefully real goofy Ranko episode this week!
Comments Off

on Who Keeps Leaving All Those Glass Slippers Everywhere, in Cinderella Girls 7?