Posted by DiGiKerot in
Mikan Watch
at May 10, 2018 on 9:35 pm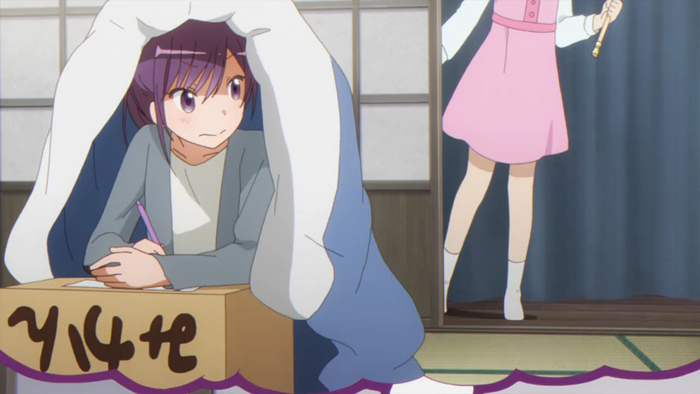 From a couple of weeks ago, from episode 4 of
Comic Girls
– I've not seen todays episode yet – being used as a table for drawing, well, comics on during an imaginatory sequence.
Comic Girls is a sitcom adapting a four-panel manga about a group of high-school aged Manga artists living in the same dormitory, that has proven itself notable for a couple of reasons. Firstly, it's kind of hitting way above what is probably necessary or expected in terms of some of the specifics of it's execution. Secondly, after some other recent stuff like Blend-S proved to be way more aggressively heteronormative than one would necessarily anticipate from something originating from one of the Manga Time Kirara-branded magazines, Comic Girls plays more closely to what I generally assume most their readers expects in that it's almost refreshing how explicitly gay it can be, and not just in the way ostensive lead Kaos seems perennially, somewhat against expected type, lowkey horny for her friends.
I'd have maybe called it my unexpected sleeper of the season, except Hinamatsuri's absurdest streak plays way, way closer to my taste in humour. It's certainly worth at least a look, though.
(Aqours ticketing last night went fine for me personally, if you were wondering)