It's another month, which means the arrival of another ludicrously monikered instalment of Haruhi to make me squint in an attempt to correctly read off it's annoying string of numbers. It's Endless Eight again, of course, meaning that there's really little point in saying anything at all about the content (even the extras are, once again, just continuations of the previous volumes) beyond mentioning that it's the final instalment of that particular run of episodes. Presumably that means that next months (or this months, if you live in one of those parts of the world where it's ticked over into 2010 already) will, aside from containing the first instalment of Sighs, see the end of Yuki's dominance of the front-cover space.
But it's not as if discussing the content is really the point behind these posts. Rather, it's all about the eternal struggle of Man versus Kadokawa. Let's cut to the chase, shall we?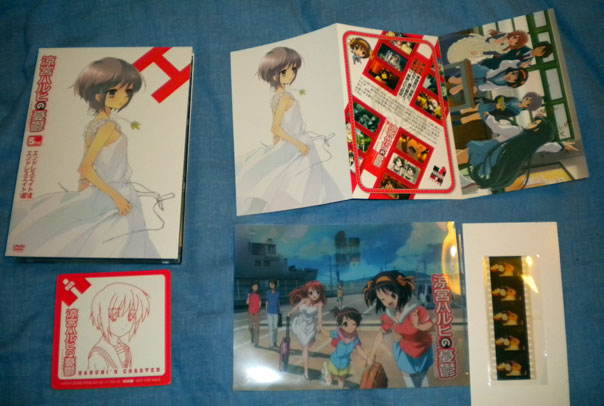 Film Strip GET! I mean, two months in a row, what are the odds?
Let's take a closer look, shall we?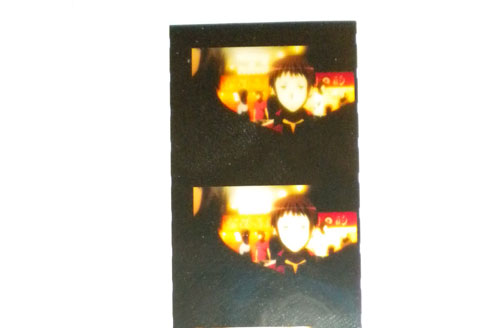 Okay, so that didn't come out too well, did it? I'm presuming that you can make out it's Kyon, at the Bon Festival that they all attend (and attend and attend). I, obviously, went ahead and pin-pointed the exact scene in question, so here it is as a screengrab from the show.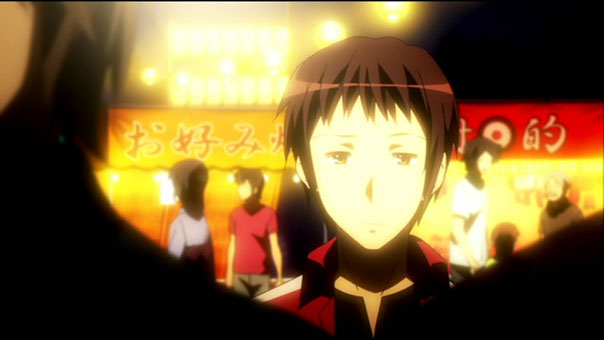 That's from Endless Eight Part Seven, at approximately 9:32. How exciting. I asked a few people how they felt about this in comparison to
last months candle
, and aside from the people doubting whether a candle actually appeared at any point in the show, opinion was divided as to whether a shot of Kyon is
actually
better or not. I guess people only really want the girls. Or they're just jealous. Yeah, that's it.
In any case, that's DiGiKerot 2 – Kadokawa 3. With three volumes left, there's still time for me to turn this around!