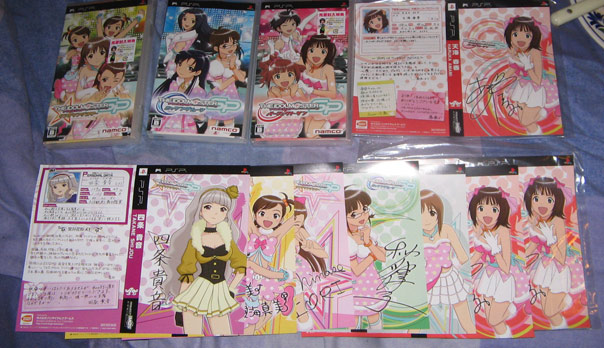 Yes, I did buy all three versions. At least I'm not crazy like that crazy Japanese fan who bought 39 copies of the game (Sankaku, so possibly NSFW) in order to get all the different stores pre-order bonuses. Instead, I just got three sets of the alternative sleeves for the game. Sourcing import PSP games in the UK is actually a bit of a pain, as a few of the more popular retailers won't ship PSP or PS3 releases over due to Sony winning a court case against Lik-Sang for selling import PSPs before the UK release. As such, my copies are the marginally more expensive Japanese release of the game. It's nothing to do with being snobby (though I'm aware a few import gamers are a little anal about the fact), but rather it was easiest version to source back when I pre-ordered. Apparently the marginally cheaper Asian release not only comes with everything pictured above, but also a no-doubt useful English instruction manual, so it probably a better purchase if you can find it.

I had been wondering why I hadn't heard much about the game yet. I figured I'd be reading quite a bit about it starting from it's release date last week, and whilst I've seen a few stories about the games release, I've seen very little about the actual content. I discovered why when I put the game into my PSP yesterday. The game ships with firmware version 5.05 on disk, a firmware revision presently only available with iM@S – it's not up for download or presently packaged with any other games. This means that anyone planning on playing a, errr, less than legal version of the game as of yet can't – it won't play on even the older hacked firmwares that can be used to spoof version numbers, and no-one is going to hack the 5.05 version just for iM@S given it's unavailable elsewhere.
It's kind of a shrewd move by Bandai-Namco and Sony – unless there's a regular download version, no-one will hack it. This means that those with hacked PSPs who even purchase the disk version will either need to wait for a new firmware version, overwrite their present firmware (hacked or not) or buy another PSP to play it on. Those who want to play iM@S SP with any immediacy have no option other than to actually buy it right now, and even in the long-run, the DLC, which history has shown iM@S fans lap up, tends not to work without using disk versions of games.
Having not used my PSP for something like a year now, I just ended up upgrading to firmware to 5.05 – it's not like I'm losing anything I actually use by doing this.
PSP iM@S is actually a pretty good game. Obviously it doesn't have the visual fidelity of the 360 version – it's cel-shading is entirely faux, achieved using fixed pre-shaded textures and a lack of lighting, and its frame rate does tend to stutter a little when there's two characters on display during the dialogue sequences – and the fact that you can only manage one character at once kind of stings, but from what I've played so far, everything else seems like a step-up from the 360 version. It's not even so much the larger differences like the more complicated time management or the some of the new rank-up rules they've put in place, more just the cumulative effects of lots of minor tweaks – things like the way they've revamped the lesson structure so that the benefit feels rather less arbitrary, or how they've changed the beat indicator in auditions from a pulsating light to a simple on/off one, making the timing for a shiny appeal far more obvious. It really just plays a far better game than the 360 version – I kind of wish they'd port this back to 360 or PS3 so I could enjoy it with the previous versions visual qualities.
There's a few other nice touches as well. Having lost the part edit for the performances – there's not much point in it now that you are not managing a group – you can now switch camera angles on the fly during performances. I particularly like that pressing the left shoulder button will switch the camera to a vertical viewpoint, filling the whole screen with your idol for those who don't mind turning the console a bit.
That said, there are a few things which are a little weird in the handling. I've been playing the Missing Moon version, producing my favourite character Ritsuko. Missing Moon is the version of the game with Miki in it, and those who have been following iM@S are probably aware that a big part of the promotional push for this game was that Miki was defecting to a new rival production studio, 961 Production. This happens pretty early in the game – you come into work one day to find Miki arguing with the boss before storming out, only for her to turn up on TV a few days later with a new song.
There's nothing particularly bad about this, other than taking Miki away from those who wanted to produce her (from the start anyway), and it does add some additional interest to the game – you quite frequently get letters from 961 challenging you to compete with Miki at various auditions, which makes things rather more interesting than the usual faceless competitors. What kind of makes it weird is that the game gives you a lot of scenes with Miki without you having to go out of your way to see them – at the beginning or the end of a day you sometimes just happen to bump into her and have a discussion, mostly revolving around her secretly missing her 765 compatriots and you attempting to convince her to patch things up with the boss and come back to your group.
The thing which makes this odd is that to get scenes of a similar length and interest value with the idol you are actually producing you have to actually go out of your way to get them – essentially playing a pretty poor game of iM@S in exchange for dialogue sequences. The side effect of this is that it actually feels rather more like a game about Miki than a game about the idol you are producing, which just feels strange at times. I'm kind of curious to see how things are handled with the other characters in the other versions of the games.
Author asked me on IRC yesterday if I had a Japanese 360. At the time, I said yes, though this isn't actually entirely truthful. To be entirely precise, I own an Asian 360 – it has all the advantages of the Japanese console, but with the added benefit of being ready out-the-box to be hooked up to the UK power system.
Of course, I say advantages of the Japanese console, but there aren't really that many – owning an import 360 is a fairly frustrating experience. Microsoft's scattershot stance on region encoding for games only really has one certainty, which is that games in Japanese will region-locked to play only on Japanese consoles, meaning those who want to play iM@S (like me when I was buying the console) need to have a Japanese region console. Otherwise, it's kind of a pain – the region codes for games are never published by the publishers, so you are entirely relying on other people checking out what will and won't play on the various region consoles in order to figure out what you can actually buy, particularly since there's rarely any consistency even for titles from the same publisher (so, for example, I can play some EU region Capcom games, but not others). This is why I tend to buy multiplatform games on PS3.
It wouldn't be so bad if there were more Japan-exclusive games worth playing, but over there it looks like the 360 is starting to settle into very much the same niche as the Dreamcast did – visual novels and shooters. Actually, it's not even so much the prior at the moment, with the genre mainly being represented by the HD update of Clannad, but there are an awful lot of shooters of the bullet-rich variety heading towards the platform. It's kind of a shame that Otomedius was kind of mediocre, but Caves side-scrolling, goth-loli-tastic Death Smiles looks like it's pretty good, and there's DoDonPachi as well. Too bad I'm awful at these games, though.
I suppose there's also that hostess seduction game, Dream Club, heading to 360, but it's clear that's happening because this game is totally aiming for iM@S fans (and, yes, I'll probably buy the damn thing).
I guess the merciful thing is that, at least, the 360 tends to be better served than most in the Asian market – I don't have to worry too much about being able to play RPGs since they tend to end up releasing both the Japanese language and English versions on Japanese region disks for use in HK and the like. Owning an import console also meant that I actually got to play Vesperia, since it looks like they aren't going to bother releasing a PAL version of that one.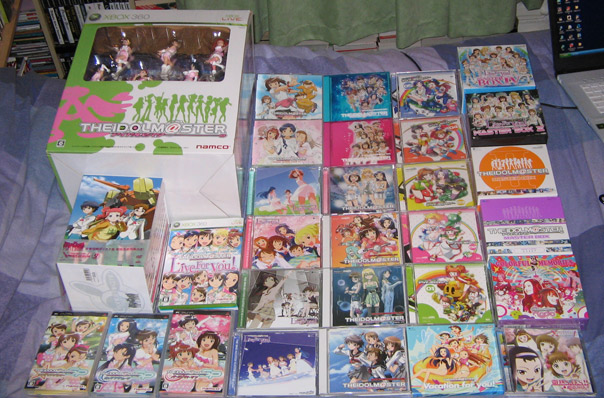 Someone also asked me if I owned all the iM@S CDs. I have a few, but compared to the number of CD releases that there have been for the franchise, it's only a small fraction of what's out there. That's not really a bad thing – there's way too much repetition amongst the iM@S CDs anyway. In any case, my collection of iM@S stuff in general isn't anywhere near as nuts as much collection of My-HiME/ZHiME stuff.