Posted by DiGiKerot in
Mikan Watch
at February 28, 2009 on 4:03 pm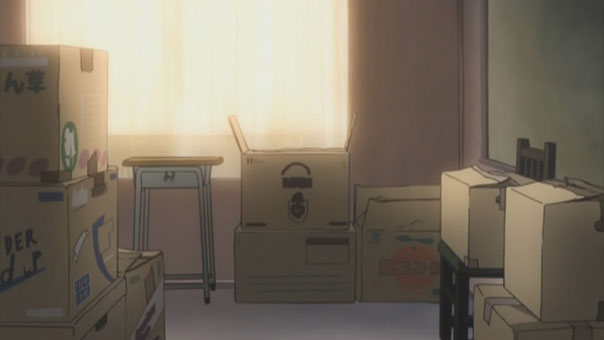 Many, many moons (well, OK, about a year) ago, Totali tried to convince me that
a Mikan Box appeared in Clannad episode 21
. On that occasion, he was proved to be foolish, given that the box in question had an apple on it, clearly making it a Ringo box. Silly Totali.
That said, it turns out that there was actually a Mikan box in Clannads very first episode – scope out the box against the back wall on the right.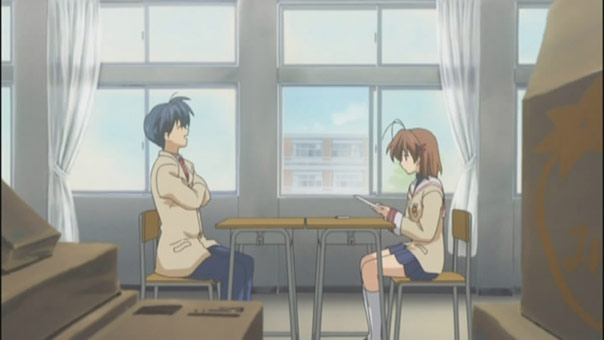 That's probably one on the right hand of the foreground there too, even though only the "Mi" is only visible.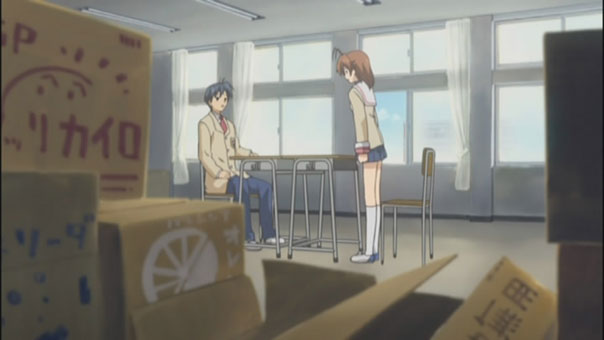 Not a Mikan box, but for a bit of variety, there's a box with "Orange" written on it in Katakana there as well.
I've been watching the ADV release of the first twelve episodes, which was just released recently. Well, I say ADV, but their logo and name is conspicuously missing from the packaging and disk contents, aside from an "ADV Films" logo on the Data side of center ring of the disk. Not that any of this particularly matters – it's basically just an ADV release, but the actual Clannad license is held by Sentai Filmworks (whose name appears all over this release) in much the same way as Sojitz held all ADVs licenses from over the last year. Except that Sentai actually appears to be owned by ADV boss John Ledford.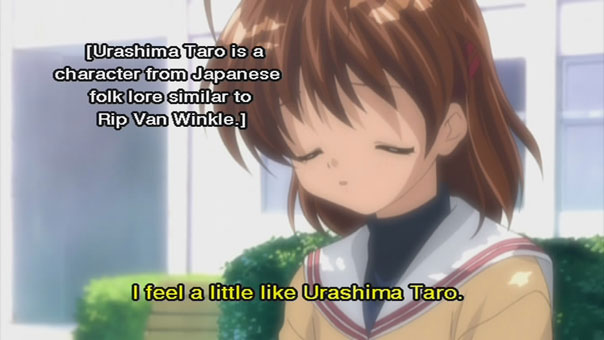 One curious thing about the release, aside from being a sub-only title, is that it has sporadically appearing translation notes appearing in the subtitles. To be honest, as someone who has been watching anime for long enough to know the kind of stuff that they are flashing messages up for, I find them kind of annoying – they take up too much of the screen thanks to the style of subtitles used. I know DVD subtitle resolution isn't great and all, but for those titles ADV did the vid-notes things for, the notes were rather smaller and less obtrusive whilst still being readable.
I wouldn't complain about them, particularly since they only appear on maybe three or four occasions across the twelve episodes in this first release, but there's not even an alternate subtitle track without them. Seriously, that doesn't sound like a particularly hard thing for them to have thrown up, and given how great ADVs DVD production has been up until these recent releases, it's a little disappointing for them not to have provided one. Really, given that this is a subtitle only release of a fairly niche title, I'm not really sure which part of the audience would actually find the kind of thing they mention particular useful or enlightening…