Posted by DiGiKerot in
Mikan Watch
at March 19, 2019 on 6:01 pm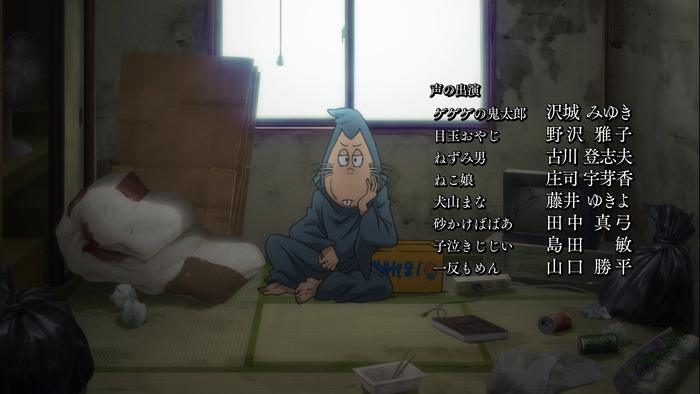 From the current ending of the current version of GeGeGe no Kitaro, being polluted by that ass Rat-Man.
There's probably a lot I could say about the current Gegege no Kitaro – it's certainly one of the more reliably entertaining shows I've been watching over the last year, particularly as something which has, in fact, been running for a year. There's an awful lot to be said about the fact that it's a rarity in that it's a franchise that has existed in multiple distinct adaptations at pretty regular 10 year intervals, often with common stories being adapted between the various iterations.
There's probably a lot more to be said on just the way that, despite having it's basis in comics going all the way back until the 60s, it's surprisingly modern in it's outlook. It's a show that started with an obnoxious Youtuber being punished for his inconsiderate behaviour, by being consumed by a Vampire tree in an incredibly painful looking sequence, after all. It's a show that, despite theoretically being Quality Children's Programming, doesn't particularly shy away from being gruesome or explicit in it's social messaging. It's a show that talks about the importance of not teaching whitewashed history, about organised labour and collective bargaining, about exploiting immigrants and the treatment of refugees.
It also has multiple episodes about how being terrible on social media can have implications, even if you think you are being anonymous about it.
This weeks episode, coincidentally, sees the return of the aforementioned asshole Youtuber, as he first propagates widespread knowledge of Yokai, only to turn around instigate hate mobs against them, based on flimsy evidence, all for those mad Streamer Bucks. Thematically, it's kind of a rough episode to be airing this week.
Anyhow, good show. I should probably actually endeavour to write something more meaningful about it once it wraps up, rather than hammering out something unplanned in the ten minutes before this Google stream starts just because I'm feeling bad about not posting anything in, errr, three months. Whoops.
(Coincidentally, geez, this new WordPress editor is garbage. Need to install one of those classic editor plugins, I guess…)
Comments Off

on Mikan Watch #117: GeGeGe No Kitaro