Posted by DiGiKerot in
Mikan Watch
at December 6, 2019 on 5:51 pm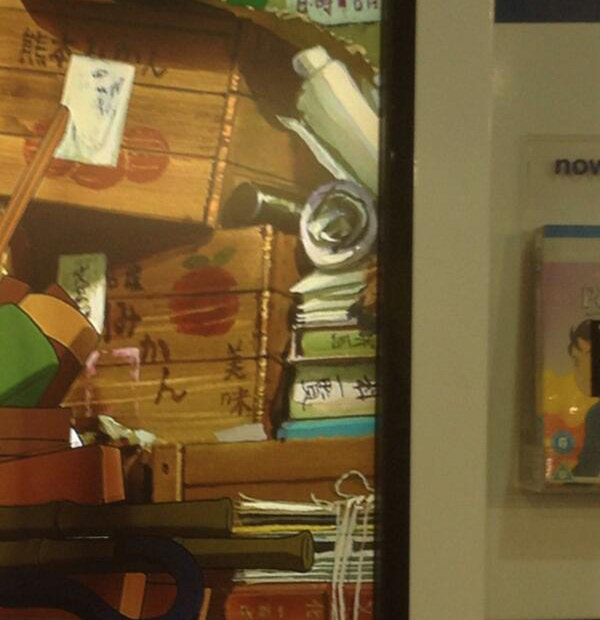 At this point in the backlog, I'm running into the ones I don't readily have screenshots or easy access to videos of, so in the the spirit of being lazy, here's a photograph
I took some six years ago in a branch of HMV that no longer exists
of the Mikan Box in the Spanish Quarter in the Ghibli movie From Up On Poppy Hill. Plus it's probably funnier for me just to half-arse it like this anyway.
For what it's worth, I have actually seen the movie – I caught a festival screening pretty early on – and I like it well enough and all, but it's not something I have ever particularly felt the need to watch again, so it's sure not something I have a disk copy of lying around or anything.
I'm generally a lot cooler on Ghibli's output than I used to be anyway. I mean, Porco Rosso and Whisper of the Heart being functionally perfect movies aside, I suppose as one grows older, one comes to appreciate Takahata's eccentricities over the Miyazaki that tends to come more quickly to mind.
Although I say this, I'd probably enjoy the heck out of, I dunno, Laputa if actually sat down at watched it again, but I can't particularly say I have much compelling me to do so these days.
(Also the vacuum left by Miyazaki's latest attempt to retire just ends up leading to usually interesting directors like Keiichi Hara making uncharacteristically bland movies like Birthday Wonderland in an attempt to plug some kind of perceived void, but ho-hum)
Comments Off

on Mikan Watch #125: From Up on Poppy Hill